Mission
"To restore hope, dignity and promise to these once proud and prosperous people"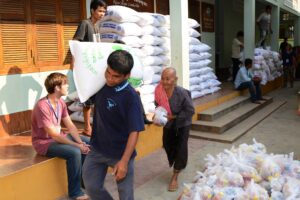 Our Story
From humble beginnings as a grassroots charity, New Hope Cambodia has become an internationally respected non-government organisation (NGO) supported by individuals, businesses and service groups worldwide.
We provide:

Where it began
In 2007 Soth Kemsour, an ex-Buddhist monk and the son of a village chief, purchased some land in Mondul Bei, Siem Reap province which is located in one of the poorest slum areas in Cambodia.
Once a military base, Mondul Bei was the home of some 300 families which comprised of soldiers and their relatives, sex workers and displaced men, women and children. It also contained many dysfunctional families. Many men had been killed whilst serving in the army and numerous adults, both men and women had died of disease. Children often had to either rely on elderly relatives and siblings for care or had to simply fend for themselves.
In order to survive many of the young girls fell victim to the sex trade and then had children themselves. Without any means of support these young girls had no future and many of them died prematurely from sexually transmitted diseases.
The people of Mondul Bei had difficulty accessing education and their employment opportunities were extremely limited. Their living conditions were appalling and their access to food and clean drinking water was scarce.
Kemsour couldn't ignore the chronic malnutrition, ill health and the horrific living conditions he was confronted with everyday.
As Kemsour appreciated that education plays a vital role in breaking the cycle of poverty he, to the dismay of his new wife, sold all their assets and built a small grass hut where he taught English and Japanese.
From these very humble beginnings New Hope Cambodia was born.