What you can do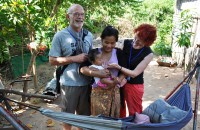 Sunrise New Hope's Family Sponsorship program cares for over 340 of Mondul 3's most impoverished families.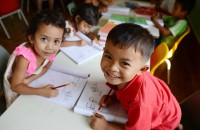 Help us to help a child by running a Child Sponsorship Program which supports the full educational needs of a very poor child.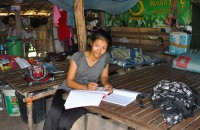 Help us by running a University Scholarship Program which enables a very poor student to complete tertiary education.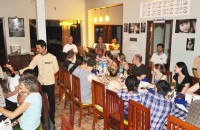 Our Training Restaurant teaches unemployed/uneducated Khmers valuable cooking and hospitality skills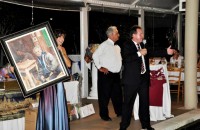 Start an online fundraising page where you can accept online donations on behalf of Sunrise New Hope
About New Hope Cambodia
Working in partnership with donors and volunteers, Sunrise New Hope provides free education, medical and welfare services to the people of Mondul Bai. From humble beginnings as a grassroots organisation, Sunrise New Hope has become an internationally respected non-government organisation (NGO) supported by individuals, businesses and service organisations worldwide.
Read the full story of how NHC began
"It is not enough to be compassionate, we must act."
Dalai Lama XIV
Contact us
Sunrise New Hope
NGO 943 Cambodian Govt.
hq@sunrisecambodia.com
Sunrise New Hope
Mondul 3 Village, Slorkram Commune, Siem Reap, Kingdom of Cambodia
Sunrise New Hope is open weekdays, and closed weekends and Cambodian Public Holidays.
2016 Public Holidays
1 Jan – International New Years Day
7 Jan – Victory Over Genocide Day
8 Mar – International Women's Day
13-15 Apr – Khmer New Years Day
13-17 May – King Norodom Sihamoni's Birthday
30 Sep-4 Oct – Pchum Ben Days
13-16 Nov – Water Festival
Full contact details

Find out how iHerb is helping us
A big thank you to iHerb
New Hope Cambodia and the impoverished of Siem Reap extend a big thank you to iHerb, an international distributor of nutritional supplements, sports supplements, bath and beauty items, pet products, baby needs, aromatherapy and food products, based in Moreno Valley, California. iHerb has a vision to use their profits to assist the impoverished in less developed countries and is providing financial support to New Hope Cambodia's programs on a monthly basis.