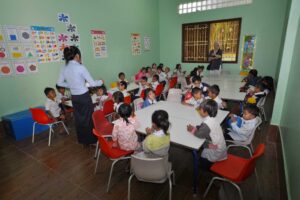 Sponsor a Child's Education
for just US$40 per month
or US$480 per year
Education plays a vital role in helping to break the cycle of poverty. New Hope Cambodia teaches English, maths and morals to children.
The town of Siem Reap is a major tourist destination attracting over two million visitors every year and it is very important that the children are taught competent English, which will increase their opportunities for employment in their local area. Few government schools provide this service and private schools charge high fees, which poor families are unable to afford. Although the parents know that education is a stepping stone out of poverty, priorities such as food and shelter take precedence and education is often out of their reach.
Your donation will pay for the child's government school uniform (blouse/shirt, skirt/shorts/trousers and socks and shoes if needed) as well as school supplies (text books, notebooks, pens, pencils, back-pack, etc). If required your donation will also cover the cost of a bicycle so that your sponsored child can get to and from school.
As a sponsor you will receive an annual school report and photo as well as a drawing / letter from your sponsored child.
Importantly, in a country where free medical attention is practically non-existent and where people die from treatable ailments, your sponsorship funds will also provide the child with full support and access to New Hope Cambodia's free medical clinic staffed by local Khmer and Western volunteer nurses.
What do I need to do?
Please complete the form below telling us that you either want to sponsor a child or require more information and our Education Sponsorship Coordinator will get in touch with you.
New Hope Cambodia selects children for sponsorship using the following criteria:
The child comes from a family experiencing severe economic hardship
The child has a caring parent or guardian who values education and who will encourage the child while he/she is at school
The child is willing to attend school regularly and is determined to try hard to achieve the best possible results
Child sponsorship enquiry form