Online Learning is currently reaching:
Khmer Pre-school
33 – 4 to 5 years old
Khmer Primary School
226 Grade 1 to 5 students
English and Local Life Skills for Young Learners:
159 Level 3, 4, & 5
Our Teaching Staff:
2 Pre-school teachers
11 Primary Teachers
6 English Teachers
Staff wages per month:
US$7000
OUR ANNUAL GOAL
US$84,000
See also:
Our Teaching Staff need your help
While the school classrooms may be closed during the COVID lockdown – our teachers are busy.
We have committed to keep our staff supported and paid so they can continue to deliver lessons to our students online or by providing worksheets.
With travel restrictions, some of these teachers work from home with their own computer and internet data.
The teachers use a number of platforms such as Microsoft Teams, Telegram and Facebook Messenger to communicate with their students that are fortunate enough to access a smart phone, tablet or computer.
More devices needed!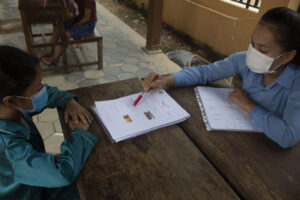 If we are able to raise more funds, we would like to purchase more Tablets to loan to students who don't have their own device. A local Telco has offered to donate data SIM cards for these most needy students.
The Team here at New Hope Cambodia have worked extremely hard to ensure we can still provide the services required as our school remains closed.
This all wouldn't have been achievable without all your kind donations and support to help us through this challenging time.
We look forward to the day we can welcome our students back into the classroom.