Educational Travel Community hosts an annual Responsible Tourism Showcase to recognize the efforts of ETC members and their partners working diligently in the field to develop and implement responsible tourism initiatives.

3rd Place Honoree
G Adventures New Hope Cambodia, Siem Reap, Cambodia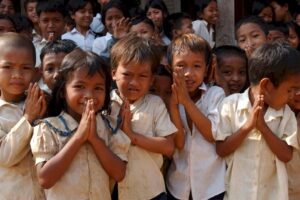 Bruce Poon Tip founded G Adventures in 1990 in order to deliver authentic experiences to travellers who craved adventures beyond all-inclusive resorts. Passionate about sustainability and philanthropy, Bruce is an authority on social entrepreneurship, 'quintuple bottom line' versus 3BL, corporate social and environmental responsibility, and leading with service and innovation. Determined to lead his industry in sustainable tourism and community development initiatives, Bruce founded the non-profit Planeterra Foundation in 2003 to make a positive difference in the lives of people around the world. With regard to the New Hope Cambodia Program, Siem Reap has undergone a boom in the tourism industry within the last ten years. Resulting income has yet to reach the surrounding underserviced communities and local people, and access to opportunities, services and healthcare professionals has become challenging in the years following the Cambodian genocide. G Adventures works with New Hope, which provides free education and training to marginalized communities around Siem Reap to prepare students for careers in the tourism and hospitality industry.
See all the award winners here:
ETC 2014 Recognizes Four Honorees for the Annual Responsible Tourism Showcase