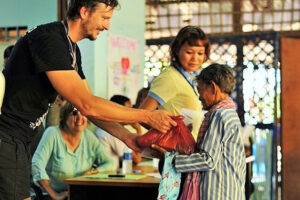 Wheel2Wheel is an independent non-profit organisation created by Morgan Parker to raise awareness and facilitate financial assistance to brilliant yet under-recognised charitable organisations throughout Australasia.
Through its innovative approach of staging entertaining motorcycle expeditions, Wheel2Wheel is able to create exceptional awareness for selected humanitarian causes by weaving them into popular adventure-travel television documentary series. Wheel2Wheel tells the stories of these philanthropic champions and provides the public with objective insight to the key social, environmental, and humanitarian issues facing the region.

Wheel2Wheel visited New Hope Cambodia on Day 39 of the journey in April 2011.
NATIONAL GEOGRAPHIC CHANNEL
10 Charities – 10 Countries