DONATE NOW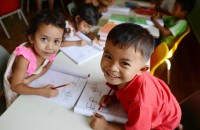 Help us to help a child by running a Child Sponsorship Program which supports the full educational needs of a very poor child.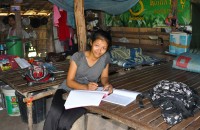 Help us by running a University Scholarship Program which enables a very poor student to complete tertiary education.
The focus of Sunrise New Hope is 'free education for all' as the founder recognized the vital role education plays in helping break the cycle of poverty. Most families in Mondul 3 cannot afford public school fees, books or uniforms, and many children are needed at home to mind younger siblings while their parent/s or older siblings attend work or in fact work themselves to support their family.
All students at Sunrise New Hope live in crisis family situations, facing shortages of the basics in life such as food, clothing, shelter and transportation. The Sunrise New Hope School offers free education to all, providing uniforms, school bags and all resources necessary for their education. The school is a three-story complex housing nine classrooms. Almost 800 children are enrolled and classes operate on a rotational basis, giving every student the opportunity to attend class each day. Our Khmer teachers each conduct four classes daily with classes consisting of approximately 35 students. We also offer vocational training courses in Sewing Skills Level 1 & 2 and Computer Skills Level 1 – 3, enabling students to gain employment in Siem Reap Province. Certificates are issued on successful completion of each course.
Most poor families in Cambodia earn less than $50 a month, so although the parents know that education is the 'key' to poverty, priorities such as food and shelter take precedence and education is often out of their reach.
As the town of Siem Reap is a major tourist destination attracting over two million visitors every year, competence in English will increase the students' opportunities for employment in their local area. Few government schools provide this service and private schools charge high fees which most Cambodian families are unable to afford. Your generous donation to New Hope Cambodia will support the school in providing quality English education, covering the Child Education Program, General English, Math, Library, Sewing and Computer skills.
Experience the fulfilment of knowing you are educating 35 impoverished students for a whole year. A donation of $700 covers the following costs for one year:
exercise books
pens, pencils, rulers and crayons
fiction and non-fiction books, puzzles
flashcards (fruit & veg, animals, number etc)
student textbooks and worksheets
whiteboard markers and erasers
fabric and haberdashery for Sewing class
printing paper
new computers and maintenance
sewing machine maintenance
library resources
DONATE NOW